Bears in progress
If you happen to drive or take a stroll along the south-eastern end of MacArthur Blvd, you will see that the California Grizzly have begun to come alive on the wall of the High Street Pharmacy, on MacArthur Blvd., between Maybelle and High Street.
These Grizzlies have come a long way, from a glint in Center for Biodiversity Environmental Health Legal Director and Laurel Village Association Board member, Jonathan Evans', eye to the painted reality of Portland artist, Roger Peet, to grace the walls of a building the Laurel District.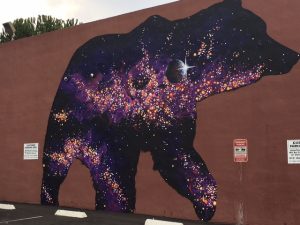 The Endangered Species Mural Project is ongoing and has sponsored murals in many other cities across the United States.  As they say, "These murals are imagined as tools to help celebrate local endangered species within communities, and to encourage people to make connections between conservation and community strength."  Support for this mural on the High Street Pharmacy also came from VisitOakland and the Laurel District Association.
There is an opportunity for more bears to roam the walls of the buildings and businesses along MacArthur Blvd. in the Laurel District.  You can help make it happen by visiting our Generosity page, https://www.generosity.com/community-fundraising/bring-an-endangered-species-mural-to-oakland.